Pretty pictures draw you in, especially on social media. So much so, people are making a living creating commercial photographs for businesses, even small ones like mine!   
Have you ever wondered what it's like to be a part of a commercial brand shoot?
I did! So I was ecstatic when I had the opportunity to work with Alice from Alice HQ Photography who specializes in commercial brand photography.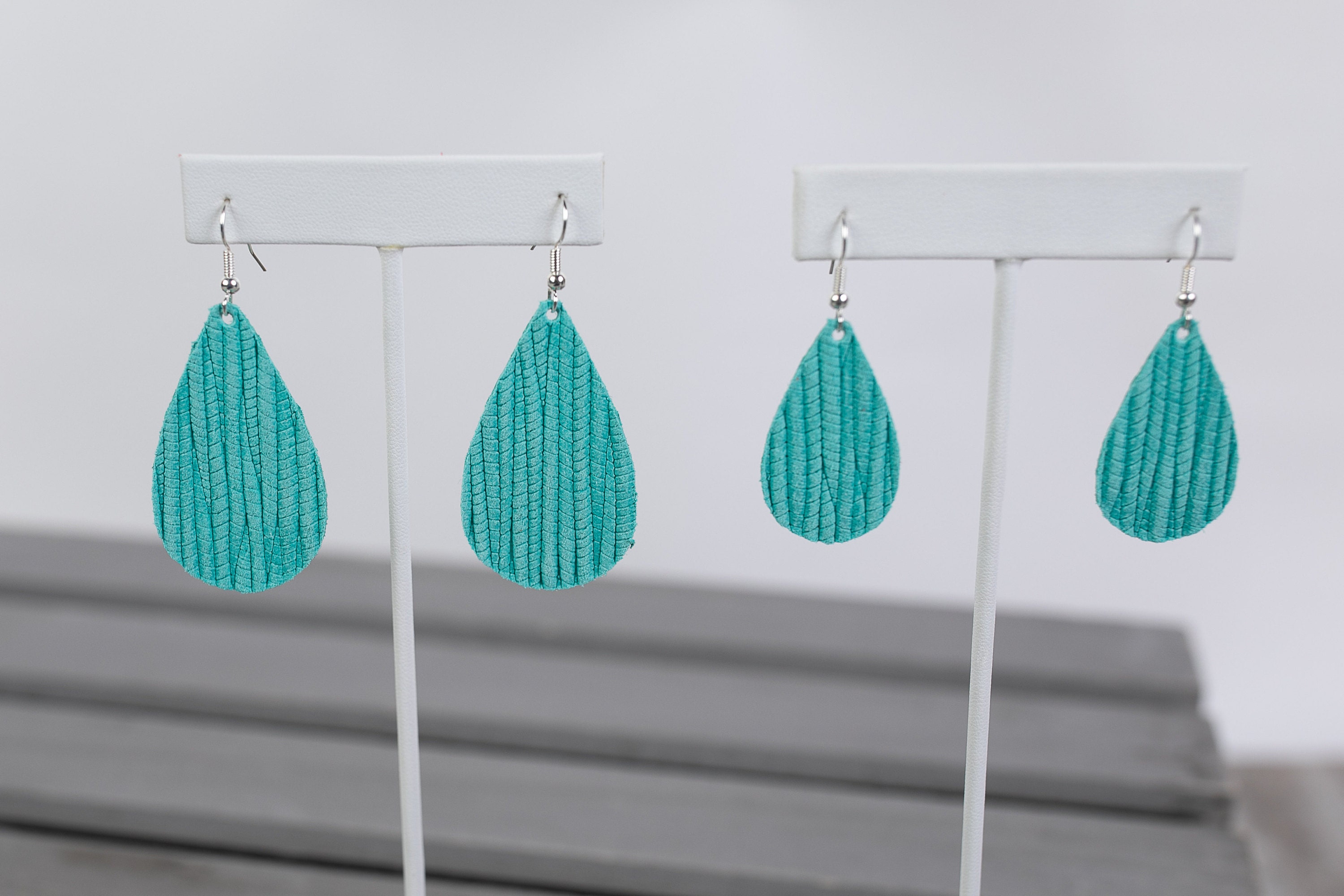 When asked why she chose this type of photography she answered, "My passion is so much more than taking great photos. I have always found it enjoyable promoting other people's businesses and brands.  To meet these extraordinary entrepreneurs who have grown their companies with great products is exciting."  
Because I had almost zero idea what it would be like to prepare for and be part of a branding shoot, I wanted to give you a little behind-the-scenes look at what it's like to work with a brand photographer.
Step One: The Prep 
If you have ever worked on any kind of project or event with me you know that I am ALL about the details. I am a planner and a preparer to my core. I live for the details.
Decide what shots you want: 
The first thing Alice and I did was narrow down the shots I wanted to get. In a thirty-minute session, we had a lot to get accomplished! Just an FYI, I don't know how all commercial photographers work, but to help narrow the focus Alice sends out a questionnaire before the shoot so she has a handle on exactly what her client's goals are. She also does her research about the business she is going to work with.    I wanted a variety of flat lays and marketing photos for two upcoming mini collections, some listing photos for each collection and lastly to get some candid shots of me making earrings.
Pick out your props: 
Then came time to curate what I would bring for flat lay props. 
For my Valentine's Day Collection, the colors were black, white and red, so I scoured the dollar section of Target and TJMaxx to find some little items that would work; a coffee cup, some colored macarons, confetti and a pink and white striped cloth napkin.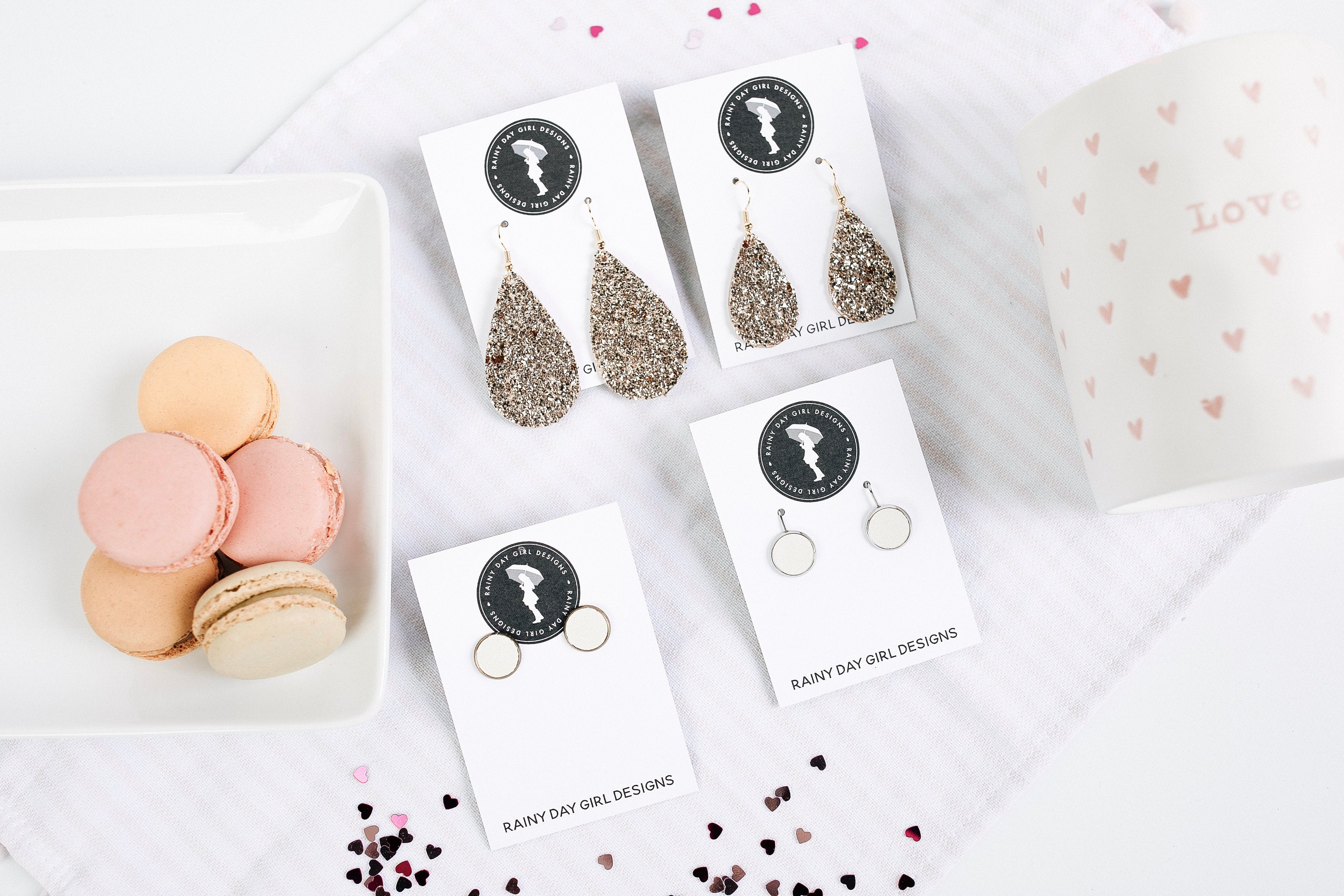 For my Resort Collection the colors were turquoise, sunset orange and coral red. When I think "Resort" I think of the beach. I was pleasantly surprised to not have to buy anything for this collection's photos. I brought a faux palm leave, a moss wall hanging, a gold leaf dish, and a woven straw clutch.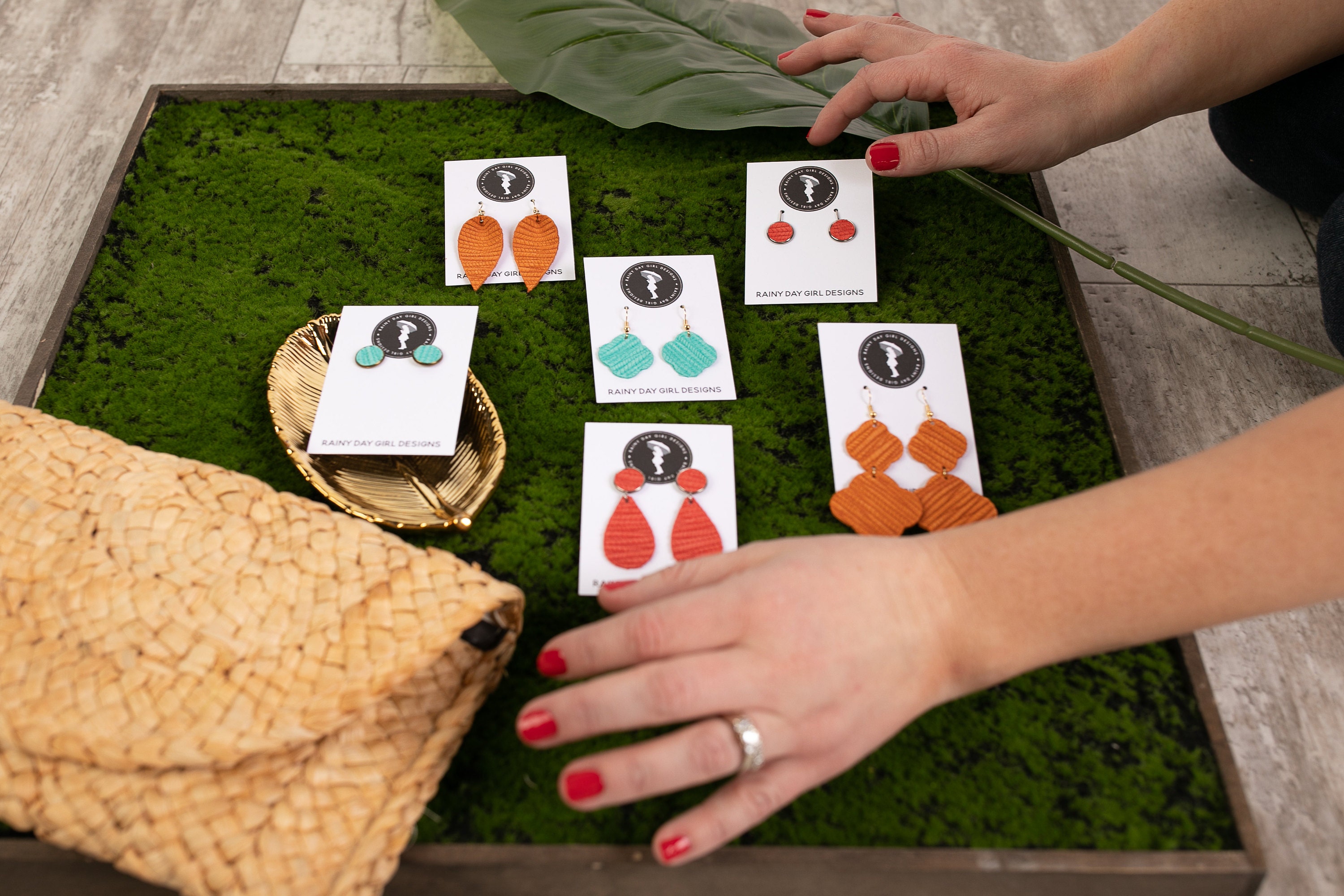 Alice also had a multitude of props for flat lays we could use, including the white earring holders pictured above.
"It's important that [my client's] business stands out above their competition, so I look for the appropriate props and location to do just that, " says Alice.   
Put together your outfits:
One of the first things I thought about (read: semi-panicked over) when I booked the date for the shoot was what the heck was I going to wear?!  
To simplify things, I picked one outfit for each collection, with the biggest criteria being I felt comfortable and confident in each outfit. The outfits also needed to go with the collections of course!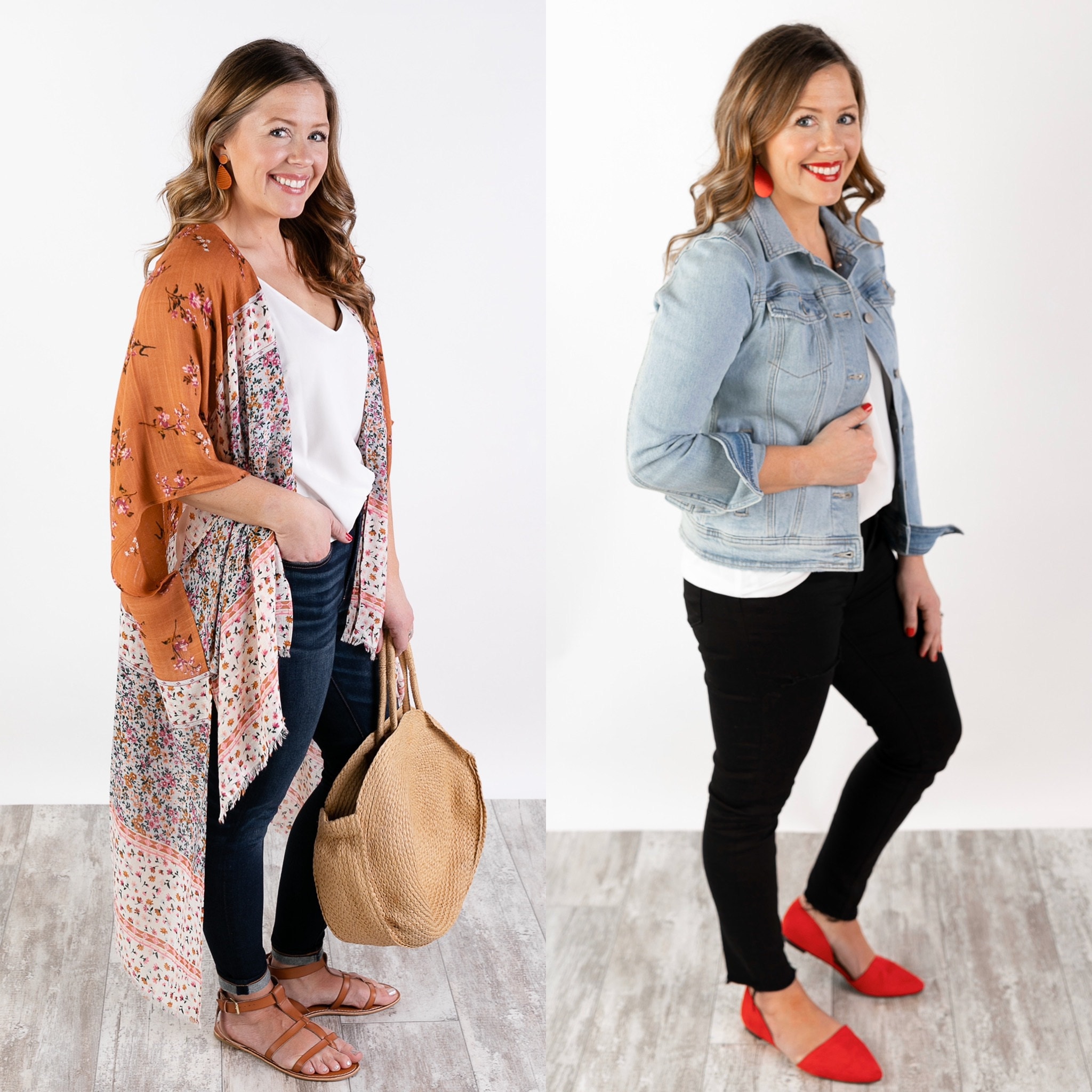 Here's Alice's take on what to wear for your shoot. "First and foremost, wear comfortable clothing.  For women who wish to sparkle, neutral colors layered with a pop of color in jewelry or a scarf works best."   
What NOT to wear is just as important from an editing standpoint for your photographer, says Alice, "Bright, neon colors tend to add an unfixable cast to skin coloring."   
Step Two: The Shoot
When I got to her studio, I was instantly put at ease. It's inviting and charming, just like Alice. 
I got changed into my first outfit and we jumped right into shooting. Before I knew it, we were on the second outfit change and Alice was on a mission doing her thing!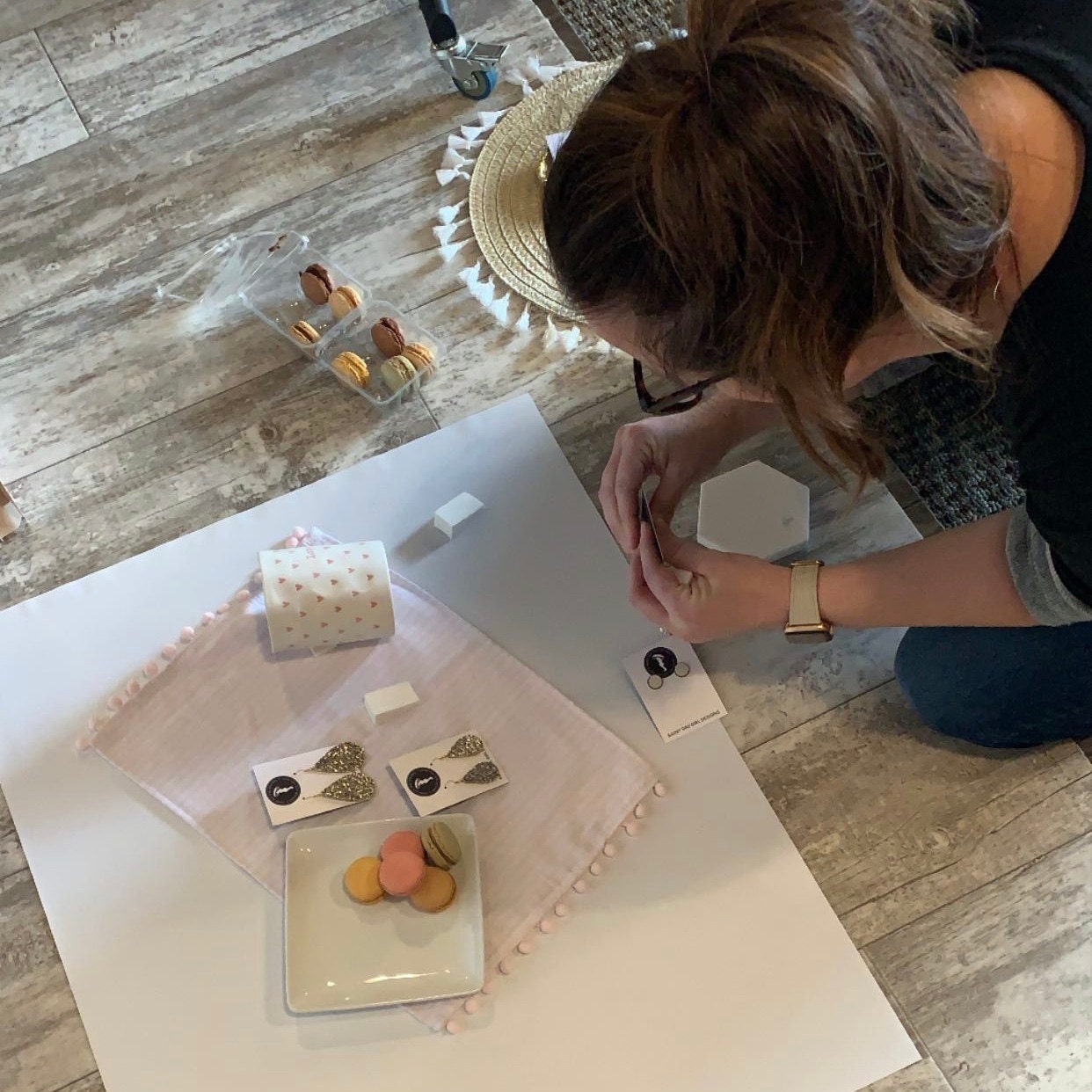 It was great. We were getting so many shots in just minutes that would have taken me so long to come up with and put together, let alone edit later. 
She also did a great job pulling out real expressions from me and laughter; and she switched gears when she could tell my smile was starting to feel forced. I think it always comes through in photographs when an expression is forced versus when its candid. And a good photographer, whether it be commercial, portrait or wedding can always tell.   
Step Three: The Editing and Delivery
This is where you get to sit back and let the photographer do her thing! Alice got right to it and sent me a couple of sneak peeks the night of the shoot and just seeing those I was already extremely impressed with how she captured what I was looking for.  
Alice had quick turnaround on my session. It was very impressive, and then she knocked it out of the park again when she delivered the images digitally, so I didn't have to wait for them to come in the mail.
If you ever have a situation where you are considering hiring a commercial photographer, just do it. It's worth the investment and you will be so pleased with how much time it saves you every day when you are marketing your business. And if you need a referral for the one I'm going to keep working with check out Alice. 
Want more info about preparing for a shoot straight from a brand photographer? Check this out.